Reviews
Sweet Transit
I actually tried the demo of Sweet Transit during Steam Next Fest in June 2022, and… I didn't understand much of it. Then I asked my friend to try it too, to see if it's me or the game, and… he also didn't understand it. Then I checked the game's forum, and there were more than a few people with the same predicament.
After 20 hours of playing it, I can say that I can handle it much better than the demo, although there are still many aspects that remain bothersome. The game is still in early access and although functionally complete and fully playable, it has a lot of room for improvement, starting with being much more user-friendly and less challenging than it currently is. It certainly has a steep learning curve and it takes some time to get acquainted with it.
Essentially, Sweet Transit tries to be a blend between a city builder and a railroad sim, but doesn't manage to excel in either of these two aspects. The game was designed with the idea that they support each other for a great strategy / management sandbox experience, while in fact it's just a road to frustration due to the many bottlenecks that one encounters.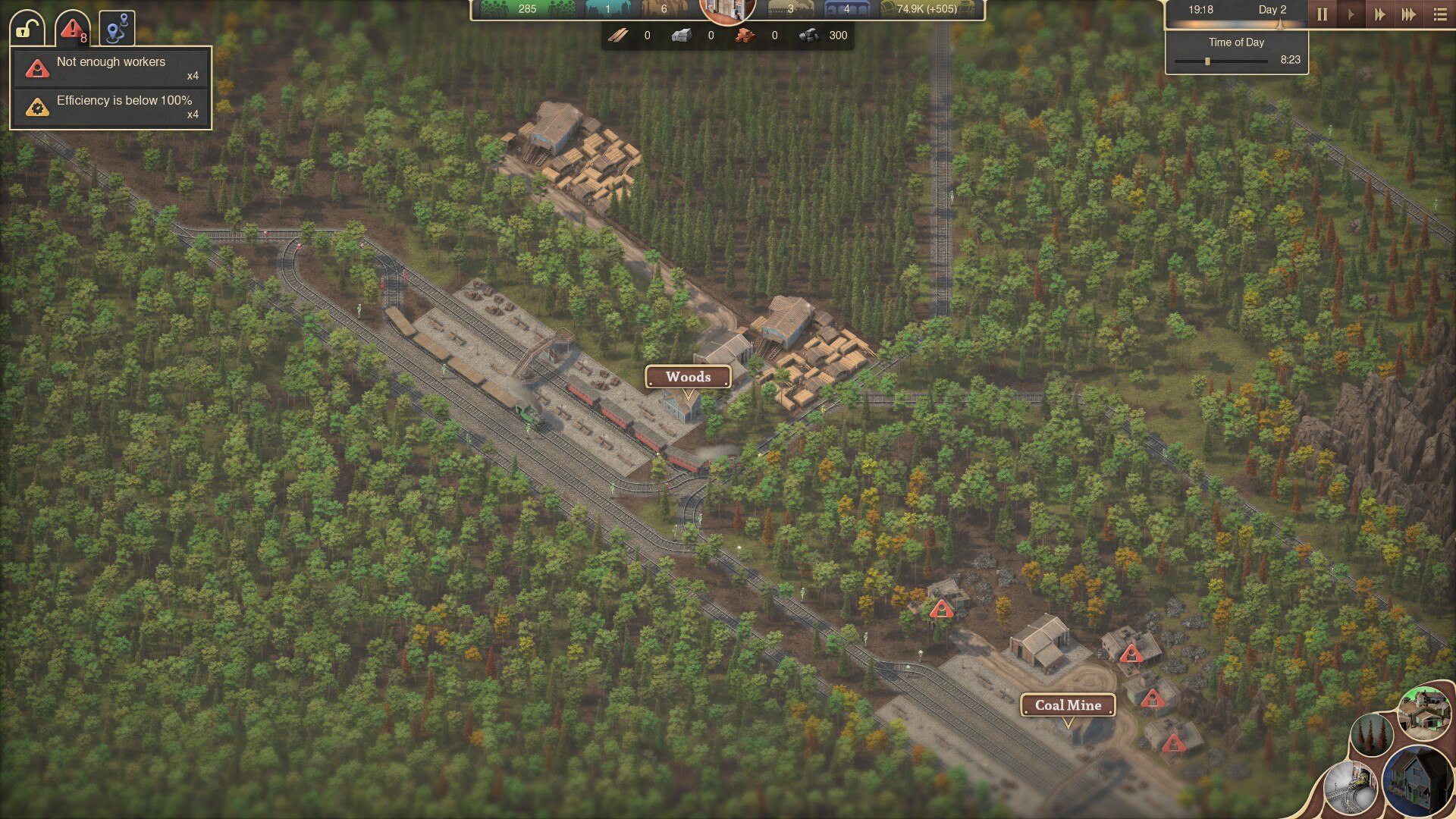 In order to expand and maintain your town, you need wood. To gather wood, you need a railroad network that transports workers from your main city to a sawmill and back, plus trains that move the produced wood from the sawmill to a warehouse located in the middle of nowhere. Since it's usually placed far from your main hub, you need to equip your trains with coal wagons or to make them stop at stations that have coal storages so that they can be refilled. But for that, you first need to mine coal, also from some far away corner of the map and transport it to all your desired centers. As your city grows, you'll have to satisfy more and more of your inhabitants' requests, like producing more complex types of food, or industrial goods. There is a very precarious balance between how much you *can* expand and how much you *have to*. The production facilities won't work at full power if the workers are unhappy. They're unhappy if they don't have jobs and all their needs aren't satisfied. But for them to have jobs, you need to build production facilities and trains that reach them, which in turn require you to have certain materials in stock. So as you see, no matter how you turn it around, you end up in a vicious circle. The game is quite strict with what you are allowed to do and doesn't give you much leeway in experimenting with different strategies.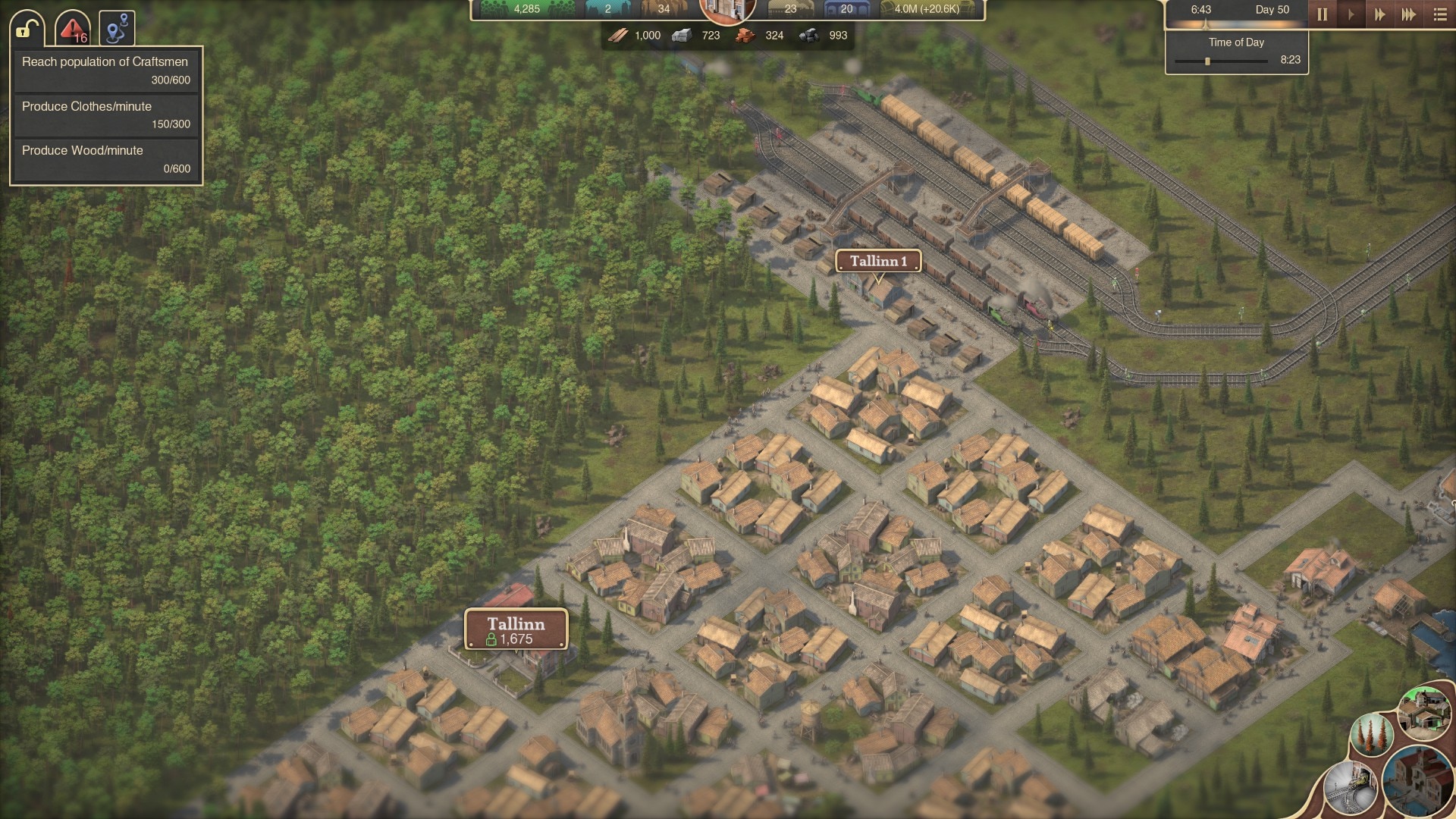 The gameplay is guided by some target objectives, which are usually to expand your town to a certain population number, or to generate a certain amount of a resource per minute. Each town has to progress through the same set of challenges in order to unlock its facilities, which means that with every new town you start at 0 again, even though your main hub already has everything unlocked. The goals are mostly challenging and they take a considerable amount of time to complete – assuming that you can overcome all the bottlenecks mentioned above. You can have a bit of fun in the beginning by connecting the first structures or making your baby infrastructure of trains, but soon enough, trying to satisfy all the requirements turns into a micromanagement hell.
The UI is not friendly enough. There are a couple of rail crossings and stations blueprints available, but otherwise you need to plan every little train signal and build your tracks manually bit by bit. As a person who is not very skilled in designing complex chain signals and preplanning my rail network in depth, I found that constructing this whole infrastructure was quite cumbersome and sadly the game didn't really help me solve this issue. There's a tutorial that explains the mechanics of the game, but it doesn't actually teach you *how* to use these mechanics, although it does have a couple of mini-puzzles for you to solve. For me, they weren't explicit enough and even if I managed to solve them without help, in front of an in-game situation of rails crossing I felt sometimes completely hopeless. The signaling system is the same as in Factorio, and most of the people (myself included) have a hard time adapting to it; but if you played Factorio in its end stages, you won't have issues with that at all. There are also some buildings / mechanics that are entirely missing from the tutorial – I had to scout the discussion forums in order to understand how they're supposed to work.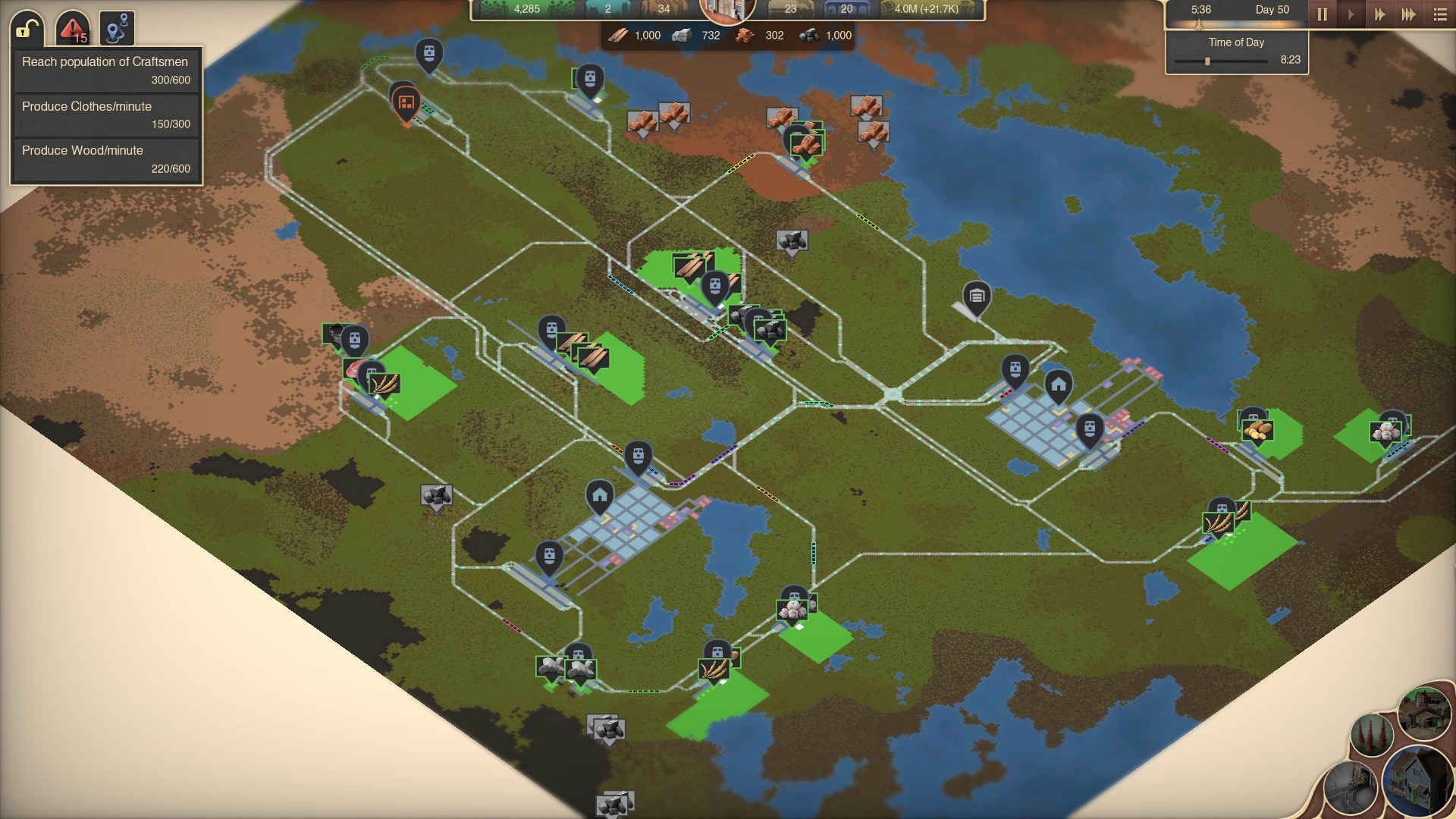 Another thing that I found irritating and simply nonsensical was having to create a brand new train preset only to add a new wagon to an existing train. Moderately bothersome is that some UI elements are hidden under others; for example, you can't build a train platform unless you click / build a train station first or you can't build anything in the city unless you click on the city hall first, which means that you need to keep in mind these dependencies whenever you want to build something. What you are allowed to build unlocks sequentially (you see only your next unlock available, and not the whole list of options available in the game) and is dependent solely on fulfilling the objectives that the game gives you. The town building aspect is also fairly basic and doesn't support much customization. Essentially, there isn't much satisfaction in expanding your town and ultimately all your towns end up looking like the same square-like, monotonous structures.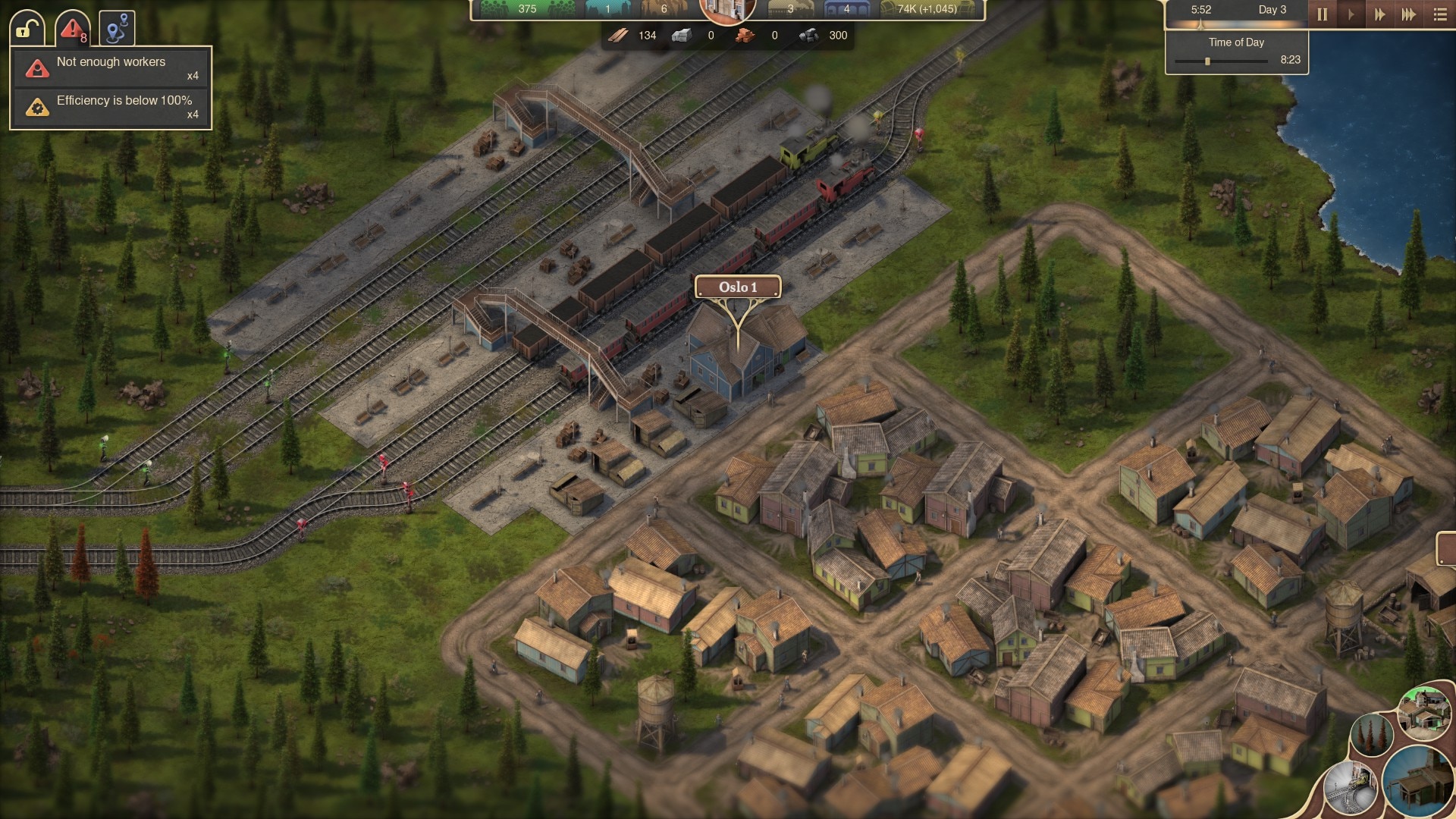 Aside from the signaling system, the aspect I struggled with the most was passenger management at train stations. In order to achieve the desired result of dropping only the tired passengers and not having the train leave the station unless it's full of rested people, I had to build a whole set of nested AND / OR conditions. The whole mechanic is poorly implemented and there's no way to distinguish between rested / tired passengers when planning a route. Things become even more complex if you try to do two different actions at one stop (for example swapping passengers AND refilling your goods cargo). In the current version of the game, multi-actions scheduled for the same station are also not properly implemented (the workaround is setting up multiple stops for the same train station); hopefully all these will be fixed in a future update.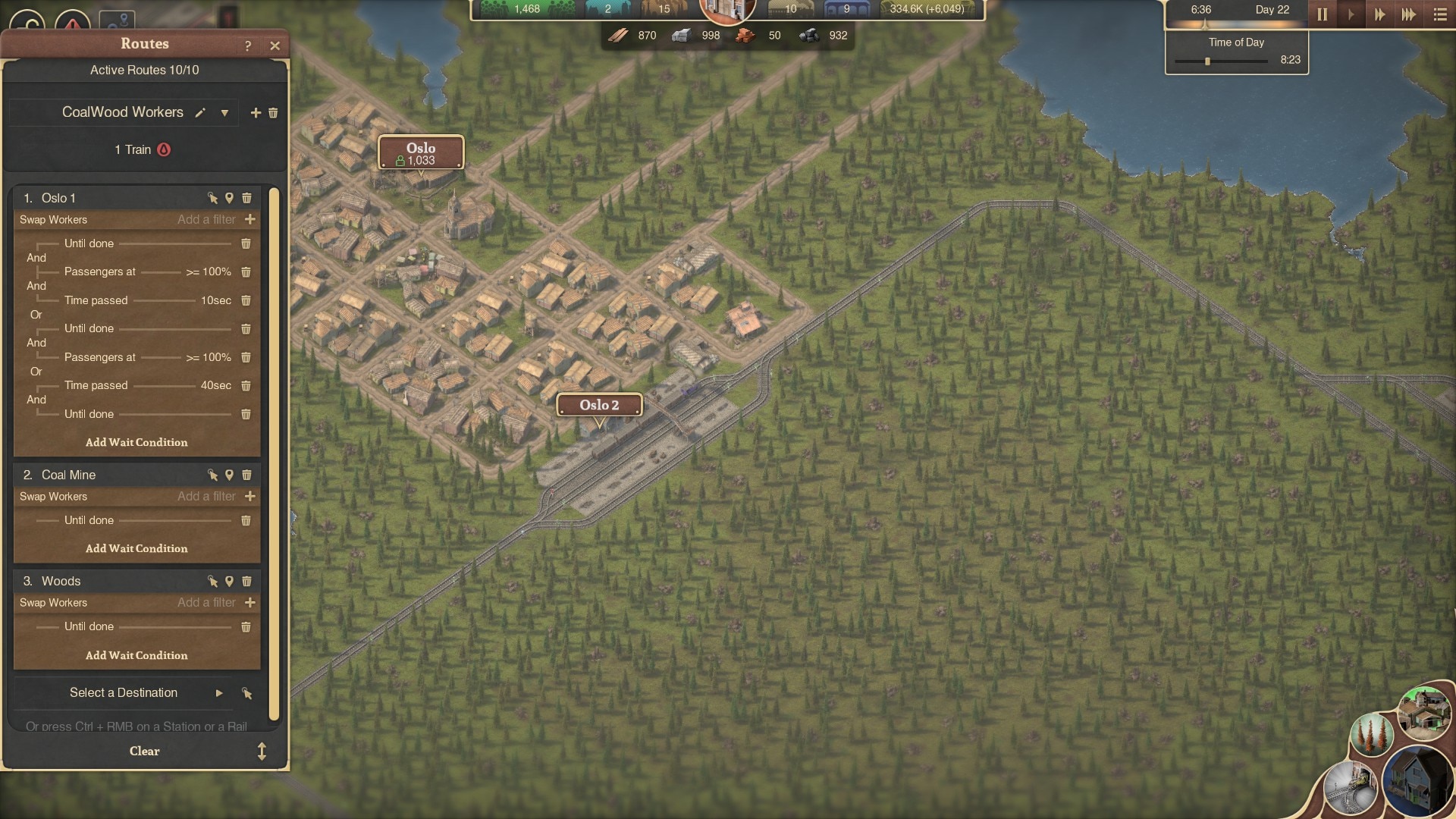 Sweet Transit is a lot about optimization and it boils down to maximizing your throughput into the one and only warehouse that has to receive basically all your main resources. Aside from trying to keep the balance between expanding and upkeep, your train network has to be fully optimized with shortcuts (to consume less fuel) or the trains have to be routed in various ways (for example dedicating some paths only to trains that carry passengers, while others to trains carrying goods by restricting the entry signals to correspond to one type only).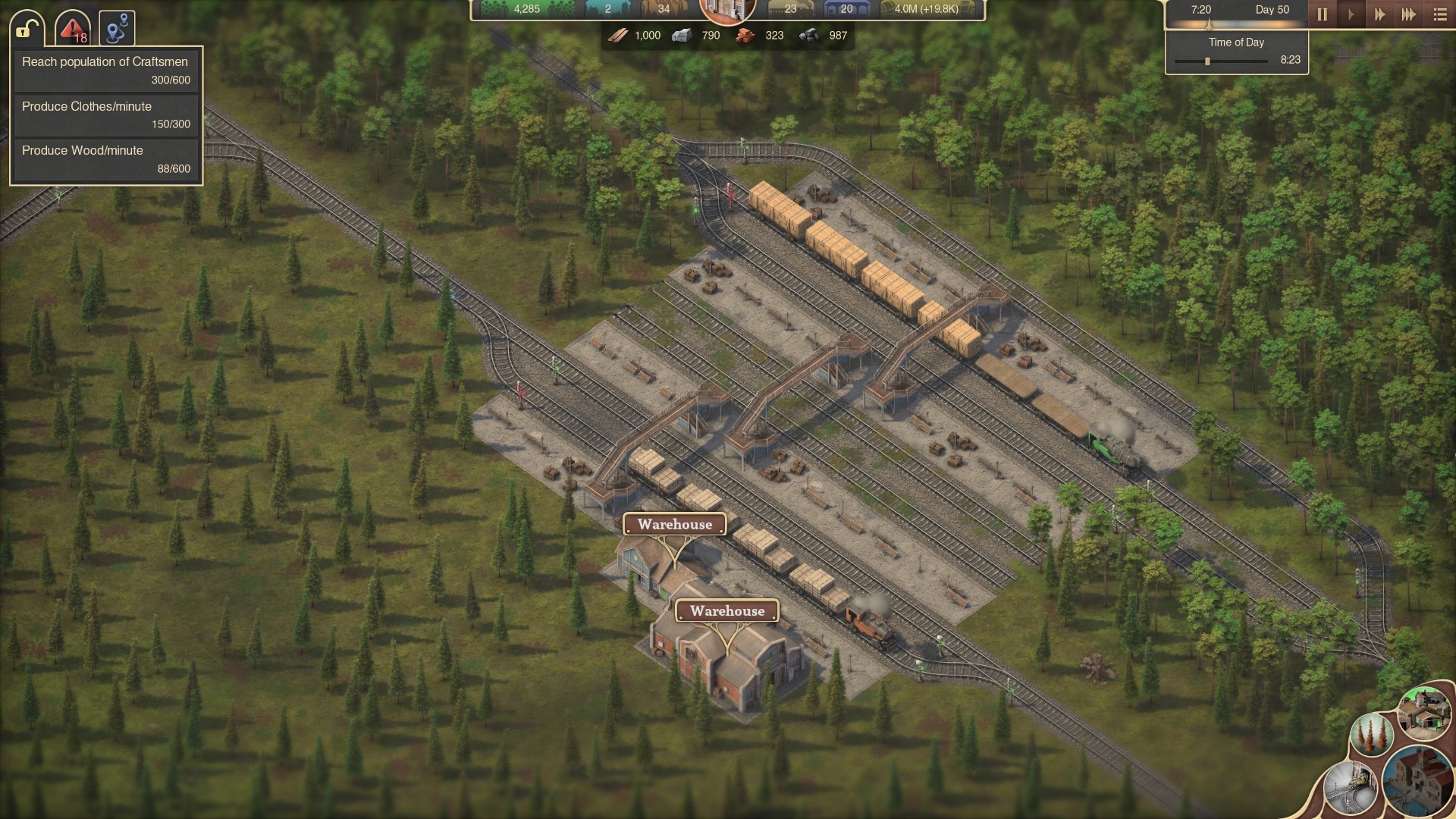 The game supports Steam workshop and a few mods that sweeten the gameplay a bit have already appeared. One of these mods makes the game very easy by slightly increasing the deposit limits (you'll be able to store more goods) and decreases the fuel consumption and town upkeep. Other useful mods address annoying issues like having only one type of resource per station allowed, while others add very useful blueprints that should be available by default in the main game, in my opinion. I recommend giving them a try if you see that you're struggling too much with the game, especially since installed mods don't restrict the achievements, although they do make some of them a bit more difficult to obtain.
I genuinely wanted to like Sweet Transit, but in the end I think it's just not entirely my cup of tea – at least not in its original form, unmodded (playing it with mods was a completely different thing for me, and the game finally became addictive and fun). If you're a fan of micromanaging things, being challenged with difficult tasks, and overall optimizing and pre-planning at every step, then this is the game for you. However in its state, it looks like it needs a bit more time for ironing out all the faulty mechanics; perhaps it's better to wait for it to be out of the early access phase before giving it a try.
Other articles that you might like: